When we invited five successful full-time Etsy sellers to nominate their best marketing advice, we were pleasantly surprised to learn that they shared a good deal of strategic wisdom and tricks of the trade. Here are the top 10:
1. Make Your Photos "Drool-Worthy"
Four of the five full-time sellers nominated quality photography as the key to successful online sales. "Photos should be drool-worthy and reflect the aesthetic of your work, of your shop, of you," says Stephanie of metalicious. "Ensure that all your item photography is as good as your best-selling item."

Her attractive photography contributes to her successful sales, but that wasn't always the case. Stephanie says it took her a long time to stray from using a plain, white background, which she assumed was the best choice for her items. "Once I moved away from a white background, my own style came through and my jewelry could finally stand out," says the New York jewelry designer. But you know what they say: Different strokes for different folks. Though white backgrounds aren't the best choice for Stephanie, they could be just right for your items.
Kate Sitzman of woolgatherings recommends using multiple photos to show as many item details as possible. "Customers may want to know what an item looks like from the back or whether it has pockets inside," says the wool, yarn and fiber seller. "Some shops have great success with staging, models, and intriguing angles. Figure out what showcases your item most effectively."

If you're not feeling confident about your photo editing skills, Sandra Durkin of snapcrafty recommends seeking a graphic designer's help.
2. BYOB (Build Your Own Brand)
Kate says the look and feel of your shop should reflect your personal style and shop items. "Though it may be tempting to replicate the success of a brand you admire, it pays to differentiate yourself," she says. "It's also a lot easier to market something you live and breathe than it is to pretend to be something you aren't."
To help figure out how to express your personal style and brand, Sandra of snapcrafty recommends asking yourself these questions: What message are you communicating? Who's your target customer? Is this message carried through in your logo, shop banner, tagline, and photographs?
For more tips, read Branding 101: How to Create a Memorable Etsy Shop.
3. Provide Good Customer Service to Encourage Word-of-Mouth Promotion
Word-of-mouth is one of the strongest forms of advertising, says Sandy Machado of Boston Bag Lady. "If people are talking about your business in a positive light, that's advertising gold."
How do you get people to talk about you? In three words: excellent customer experience. Sandy says sending customers a friendly confirmation email after they've made a purchase, a handwritten note in packages, or a freebie sticker goes a long way in establishing a good customer relationship. "Keep buyers up to date with the status of an order, from start to finish," she says.
Kate takes a similar approach. "Because I sell supplies — something you can buy more than once — I rely on repeat business and referrals," she says. "The most important part of my marketing strategy is providing excellent customer service and retaining customers."
What does Kate's excellent customer service entail? "It's nothing fancy," she says. "Fast shipping, good communication, and setting appropriate expectations with accurate listings and photos."
Get more tips in 5 Steps to Happier Customers.
4. Experiment With SEO
Sandra says good SEO (search engine optimization) increases your search rankings and, consequently, the visibility of your products to potential buyers on Etsy.
Kate from woolgatherings agrees. "There really is no substitute for the kind of visibility a good search ranking can bring," she says. How does she optimize her shop? The key is asking yourself, "What words would buyers use to find your product?"
Also, make sure your titles, tags, and descriptions are accurate. Even if a particular keyword makes your items appear in more searches, it doesn't help you if it doesn't coincide with what the searcher is looking for. Next step: Study your Shop Stats. If you notice that your tags never appear in your Shop Stats, try replacing them with other words and phrases.
For more tips about improving your SEO, read this FAQ.
5. Get Smart About Social Media
Stephanie says Etsy sellers don't need to tweet, Facebook, Instagram, pin, and blog all day, every day. "No one has time for that," she says. "But you do need to select one platform that works for you and use it. Regularly." As for spreading the word about your preferred social media, Stephanie suggests following other users and including social media URLs in your Etsy profile, note to customers, and shop announcement.
As you're building your fanbase, Stephanie suggests developing an engaging communication style and building trust by showing followers your creative process. "Get them excited about what you're making," she says. "And respond to their comments. People will become invested in your product and become your best customers, because they will get to know you — a real person who earns a living doing what you love."
Are you trying to figure out which form of social media is best for you? There's no right or wrong answer. For example, Stephanie's a Facebook fan, while Sandy from Boston Bag Lady swears by Instagram — "the strong visual component really helps with sales," she says.
6. Define Your Niche
What makes you stand out on Etsy? How can you serve a specialized market? Being able to clearly define the answer to these questions will help you define your niche. For Boston Bag Lady to stand out from other vintage shops, Sandy decided to curate a collection of vintage paper ephemera. She started with greeting cards and eventually expanded to giftwrap, card games, paper doll books, and more. "I get a lot of sales from people who are collectors or giving these items as gifts, and from people who use these items as part of their own crafts," she says.
7. Study Successful Shops
Sandra recommends researching the most popular shops in your category. "Don't copy their ideas, but do take notes on successful Etsy businesses," she says. Using sites like Craftcount (a third-party site that uses Etsy's API), Sandra suggests studying top shops' sold products, branding, and photographs and implement similar strategies that could work for you.
8. Engage Fans With E-Newsletters
"Every time I send an e-newsletter, there's a huge peak in my traffic and sales," says Sandra Durkin of snapcrafty. She recommends using MailChimp to offer promotions such as special discounts, free gifts, or entry in giveaway contests to customers who sign up for your newsletter via your blog or a URL from your Etsy About page. "Incentivizing can really help attract new subscribers," she says.
9. Send a Package That's Worth a Thousand Words
you ever get a boost of energy when you shop at a brick-and-mortar boutique that's filled with inspiring objects and displays? Amy from AHeirloom suggests replicating a similar feeling of excitement by creating an attractive aesthetic with packaging and shipping materials.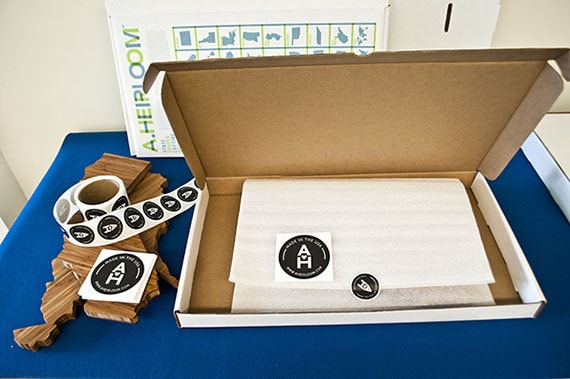 "Your packaging shows how much you care about your brand," says the Brooklyn-based maker of state-shaped cutting boards. "A shopkeeper cares about how his store looks and how the work is displayed — your product on your customer's doorstep can inspire that same kind of desire for a return trip."
Read more packaging tips.
10. Send Samples to Tastemakers
A great way to capture the media's attention is by sending them a taste of your treasures. Amy of AHeirloom recommends finding bloggers who share your aesthetic and sending them your best item along with a one-sheet write-up about yourself and your business. You never know — it could lead to press.
"While some bloggers are super busy people and tend to have tons of products coming their way, you can get noticed with a well-made gift, good graphic design, a solid logo, and some photos of you and your work," Amy says.